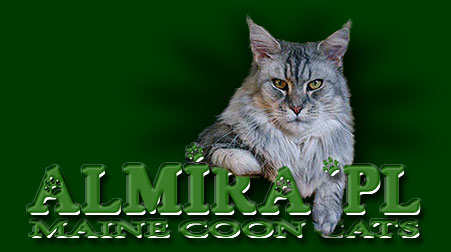 Currently the breeding is paused

---

We would like to do everything possible for our cats to see them enjoying a happy, healthy and long life. All litters are planned. The kittens may leave for new homes after they finish 14th weeks of life, when they are completely ready to change their surrounding. They have been already tested for diseases, gone through preventive examination, two vaccinations and microchip. New carers are provided with FIF-e pedigree, Certificate of Health, UE Passport, an agreement and layette for the kitten, which enables the kitty to adopt easily in a new house. Pet kitten will be neutered before living our home. We aren't sending kittens alone into their new homes. We prefer personal contact.
We devote plenty of time and love to our cats. They spend every single moment with us participating in our everyday life. We have kittens seldom. We love them and that's why we pay special attention when choosing their new homes. We preffer to sold kittens as family members- not for breeding. If you are interested in our kittens, you are welcome to contact us in advance. This will enable to know each other better.



---
---
Look at our litters: Litter "K", Litter "L", Litter "M", Litter "N", Litter "O"
---
Copyright © by Almira, all rights reserved